OneSource Team specializes in web development, ERP, CRM, and LMS development, MVP launches, SaaS developments, UI/UX design, and start-up acceleration. Mr. Serhiy Nikolskiya is the CEO of this leading company, which has a proven track record of providing 360-degree development services for around 450 products for 200 clients all over the world since 2007. GoodFirms' research team had the opportunity to interview him and throw some light on the company's values, strengths, and successful journey.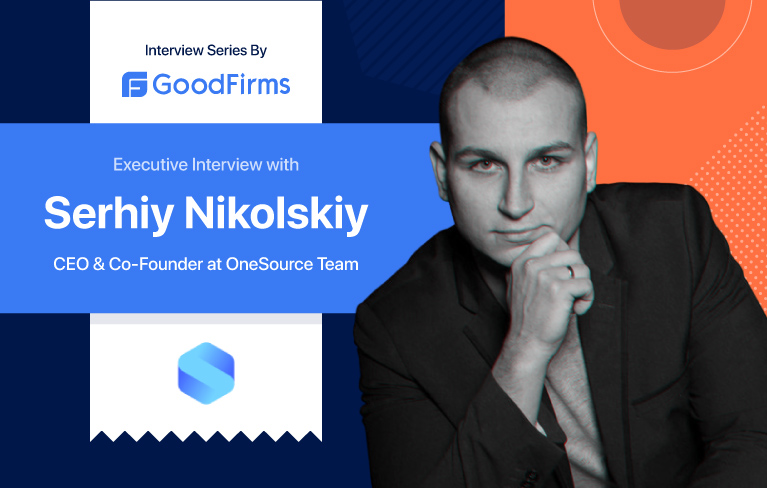 OneSource Team has extensive experience in handling full-cycle product development from scratch. They are not just a team of developers; they are experts at creating products much quicker due to their expertise in proven successful methodologies. From idea inception to implementation, the OneSource team can create products to ultimate customer satisfaction.
Specializing in custom software development; the company has been ranked as one of the best software development companies in Ukraine on the GoodFirms platform.
Experts at GoodFirms interviewed Mr. Serhiy Nikolskiy, CEO of OneSource Team, to learn more about the company, their achievements, and future goals.
Let's get started with the conversation conducted in the interview and glimpse the successful journey of the OneSource Team from inception to unexceptional growth.
A brief Introduction of the Company and The Man Behind Its Success
OneSource Team is located in Europe and specializes in web development and customized software development catering to different business requirements. Their services include static website development and complex app development that improve business operations for their clients.

What Is The Story Behind the Inception of OneSource Team?
The idea of partners of this company was to run an IT training company, and so it was formerly known as GNS-IT. When a network of acquaintances demanded web solutions for their businesses, the company hired a specialized team of developers who could fulfill their demands.
What are your Company's Business Model and Pricing Structures?
OutSource believes in having an in-house development team that ensures quality control, reduces communication gaps, enables faster turnaround times, and encourages consistent delivery. It also builds trust in clients' minds as they directly deal with the people working on their projects. Below are the different pricing structures the company follows –
Fixed Price Model: OutSource offers a fixed-price model for projects having specific requirements. This helps businesses that are very clear about their projects' scope, vision, and budget.
Time & Material Approach: This pricing model suits the projects having uncertain requirements and specifications. OneSource provides flexible pricing to their clients with such kinds of projects requiring uncertain resources used and work hours spent.
What Sets OneSource Team Apart from the Competition?

Cost-Efficiency: The OneSource Team follows a cost-effective approach towards their development processes and thus can come up with excellent solutions at a low cost without compromising their quality.
Agility: The OneSource Team is agile enough to make projects successful by including suggestions and insights that enable them to improve outcomes.
In-Depth Technical Knowledge: The OneSource Team includes professionals with in-depth technical knowledge and experience across versatile industries. This helps them understand challenges and provide innovative solutions to their clients.
Which Industries Does OneSource Team Caters to? What is Its Customer Retention Ratio?
To answer this question, Mr. Serhiy Nikolskiy said that they cater to various industries like EdTech, FinTech, Fitness and Wellness, Marketing, Management, Enterprise Software, Legal Technology, and more.

OneSource Team has always believed in building long-term relationships with their clients, and thus, they feel proud to say that 86% of their customers are repetitive and rely on them for after-sales support or ideas for their new product.
Which are OneSource Team's Best-Selling Services?
Clients frequently approach the OneSource Team for customized CRM & ERP development, MVP launches, UI/UX design, marketplace and eCommerce development, LMS, and complex SAAS solutions.
What is Your Customer Satisfaction Rate, and What Steps Do You Take to Improve that?
At OneSource, customer satisfaction is the top priority. Their consistent feedback from clients and long-lasting relationships with their customers prove that the clients are ultimately satisfied with the products and services. They make sure that they participate in active client listening and regular communication activities that help their project managers and teams to maintain a cordial relationship with their customers and understand them better.
To prove the above statement, below are some of the authentic reviews for OneSource Team by their esteemed clients.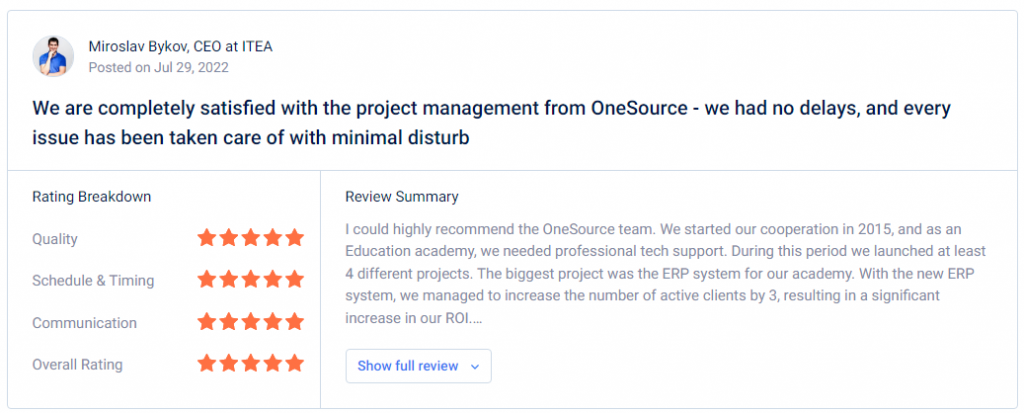 Do You Provide Some Support Systems Addressing Your Clients' Queries and Issues?
Answering this question, the CEO of the OneSource Team said that they, of course, provide a strong support system to their clients depending on their projects, but the criteria that remain important are collaboration and transparency. They listen to their client's feedback carefully and make sure that their inputs are integrated into their actions.
Which Payment Structure Does Your Company Follow?
The payment structure that the OneSource Team follows can be fixed cost or time and materials depending on the client's requirements. It should be a win-win situation for both.
Can You Take Projects That Come With Minimum Budget Requirements? If Yes, How Much Can Be the Minimum Cost You Have Worked For Till Now?
Here, the projects are assessed, and based on their scope, complexity, and resources required, the price is quoted. Mr. Nikolskiy stated that they have worked on projects ranging from $15,000.00 to $500,000.00 and are always ready to discuss different budget requirements.

Where Do You See OneSource Team in the Next 10 Years?
Mr. Nikolskiy said that in the next ten years, the OneSource Team aims to be a leading player in the web development industry, catering to diversified sectors. They also are planning to expand their in-house team, adopt cutting-edge technologies, and foster partnerships all over the world. Their goal is not just to deliver top-notch solutions but also to drive innovations and set new benchmarks.
You can also go through this detailed interview on GoodFirms.
Washington, D.C.-based GoodFirms is an innovative B2B Research and Reviews Company that extensively combes the market to find business services agencies amongst many other technology firms that offer the best services to their customers. GoodFirms' extensive research process ranks the companies, boosts their online reputation, and helps service seekers pick the right technology partner that meets their business needs.
As a Content Writer at GoodFirms, Anna Stark bridges the gap between service seekers and providers. Anna's dominant role is to figure out company achievements and critical attributes and put them into words. She strongly believes in the charm of words and leverages new approaches that work, including new concepts that enhance the firm's identity.